If a project does not have an abstract specified, abstract-related panels don't show up.
The abstract is also shown on the project index page instead of a truncated description. If there is no abstract set, a truncated description is shown, like previously.
When editing a project in the management panel, users get a warning but are allowed to override the word limit. However, this then prevents the client from editing the project unless they reduce the word count manually, as the edited project would fail validation when being edited via the client-facing interface.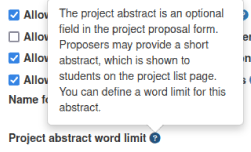 The default word limit is 50.
Closes #416 (closed)
Edited by
Martin Mladenov
Merge request reports